B45 Bulk X-Ray – ext. 33968
Bruce A Guardhouse Sergeant – ext. 14770
Bruce B Guardhouse Sergeant – ext. 14052
Main Gate Guardhouse Sergeant – ext. 17008
Center of Site – ext. 13333
Bruce A – ext. 14444
Bruce B – ext. 15252
Security – ext. 15000
Steps to take at the bulk x-ray
If a time is scheduled, proceed to B45 at allotted time to enter building


If no scheduled time enter queueing area

Upon approach wait for Security Marshals direction to enter building
Follow direction of Marshal to park vehicle.
Exit building and enter driver kiosk
Await direction of Marshal to return to vehicle
Upon direction of Marshall enter vehicle and leave building to go to designated station
PPE – high visibility, safety shoes, hard hats, safety glasses
Once scan has been completed and truck has been security sealed, driver shall drive to designated station
Driver to park in queue at station
Driver to exit vehicle and enter into guardhouse search area
Driver to meet sponsor and retrieve permission to enter vehicle to salle port
Driver to enter salle port for vehicle (cab) search and security seal verification
Driver to exit vehicle and return through search area in Guardhouse
Driver to proceed with Sponsor and exit vehicle through Guardhouse
Commercial Vehicles Leaving Site
Visitors must wear the site identification badge issued by security in a visible location at all times while on the Bruce Power site.
Visitors' vehicles will be searched upon entry to the Bruce Power site for alcohol, drugs, firearms, weapons, explosives and unauthorized or illegal items.
A valid driver's licence is required to drive on site. Speed limit and parking rules are posted and enforced by security officers. Criminal Code violations will be reported to the Ontario Provincial Police.
Visitors are expected to drive in a safe and professional manner when driving on surrounding community roads.

 

Visitors must be aware of posted speed limits, rural school bus stops and can expect slow moving machinery.
Visitors MUST remember to:
Keep TEMP expiring day pass visible on your person at all times while on site.
Keep TEMP expiring vehicle pass visible on rearview mirror or dash of vehicle.
If driving a commercial motor vehicle, monitor through the Exploranium before exiting the site.
Do not leave site with TEMP visitor passes, please deposit in drop box past the Central Perimeter Guardhouse.
Exploranium Driver Instructions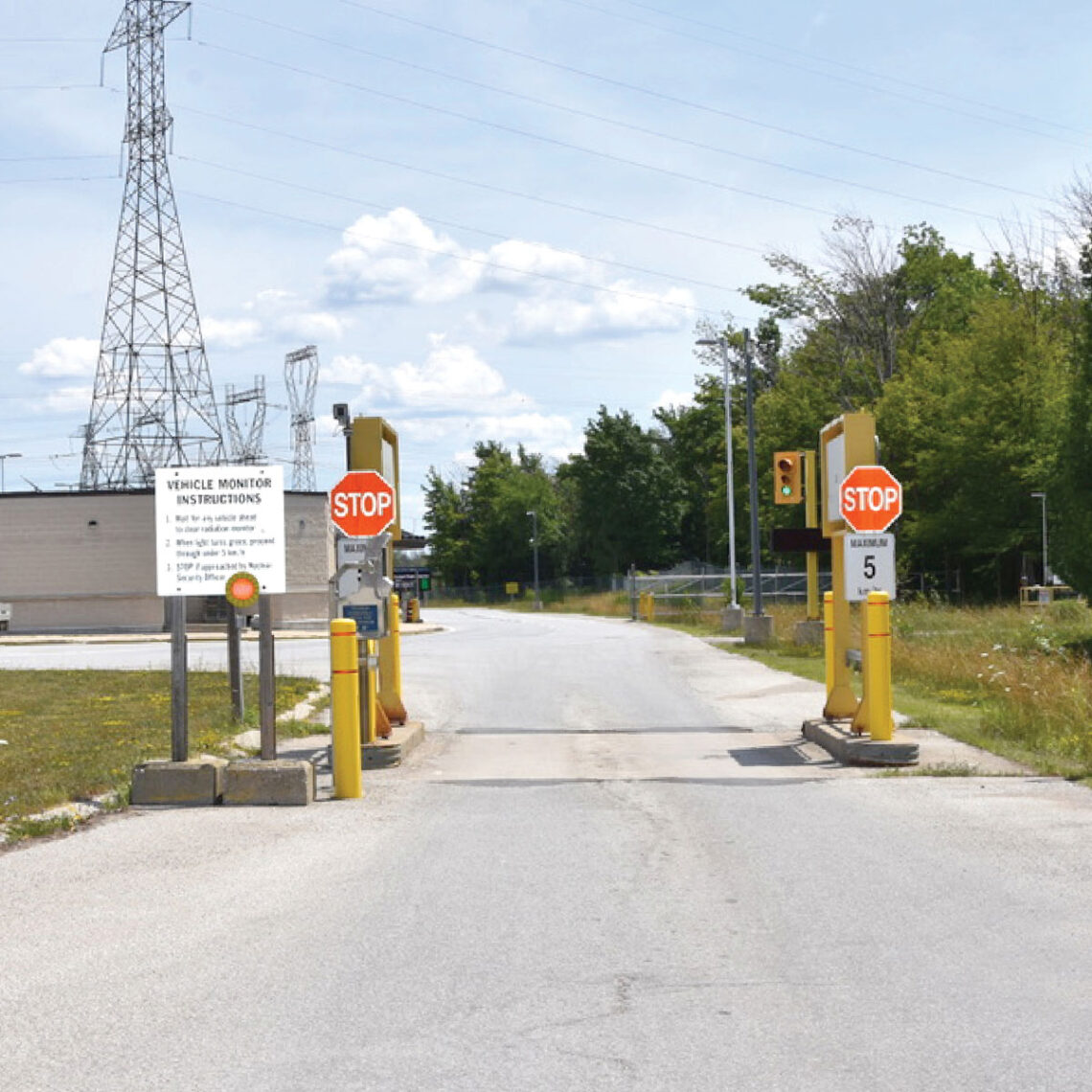 2
Wait 20 seconds between vehicles
3
Drive between yellow posts (11.6 Clearance) under
 5 km/hour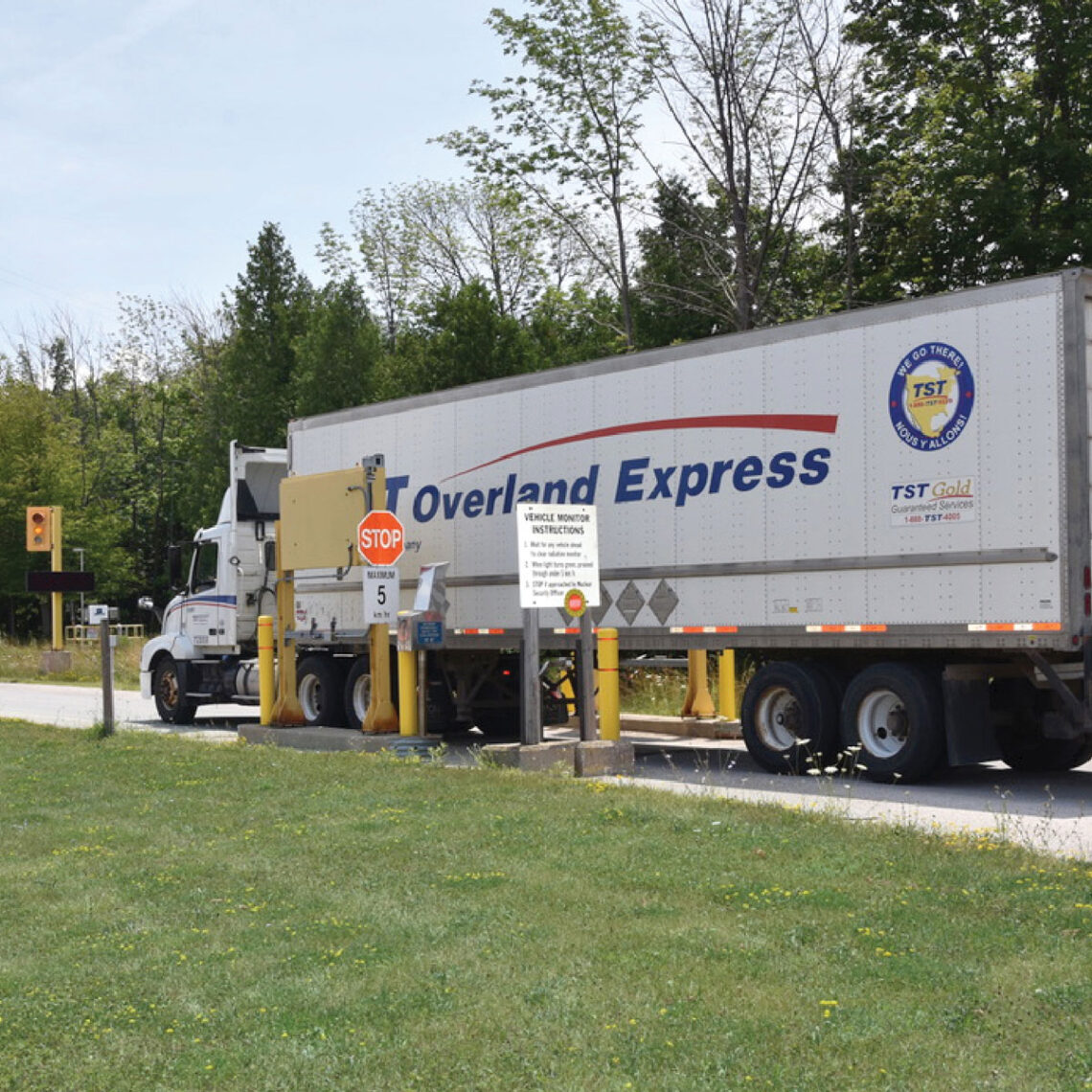 4
One of three lights will appear:
GREEN LIGHT
Safe to proceed off site.
YELLOW LIGHT
Speed alarm over
 5 km/hour. 
Turn around and repeat process slower.
RED LIGHT
Radiation level alarm:
Level 1
– Must have two clean readings. Turn around and repeat twice. If you alarm again, you must park and be cleared by a Radiation Technician. Security will call for them to respond to your parked vehicle.
Level 2 or 3
– Turn around and park vehicle for a Radiation Technician to be called and wait to be cleared.
AT ALL TIMES:
If unsure, stop and wait for security direction from intercom speaker.