On Oct. 16, 2023 a decision by the Canadian Nuclear Safety Commission confirmed the ongoing safety of CANDU technology and pressure tubes in Canada's nuclear reactors.
This decision was informed by years of detailed research and analysis into pressure tube integrity in CANDU reactors and echoes the conclusions of the External Advisory Committee on Pressure Tubes, established by the Canadian Nuclear Safety Commission (CNSC), which confirmed in a report earlier this year that "enough has been done by the licensees to definitively provide assurance that the plants can operate safely." 
Read Bruce Power's full statement here.
On October 11, 2022 Bruce Power submitted an application to the Commission requesting an amendment of Bruce Power's Power Reactor Operating Licence to remove Licence Condition 15.3 to reflect the Commission's latest Records of Decision (DEC 21-H113 and DEC 22-H1001). This request is supported by the advancements in understanding related to pressure tube behaviour and documented satisfaction that pressure tube fracture toughness will be sufficient for safe operation beyond 120 ppm in the regions of interest near the pressure tube inlet and outlet rolled joints.
In 2021, Bruce Power proactively disclosed a technical finding around its pressure tubes to the Canadian Nuclear Safety Commission (CNSC).
The finding was identified through robust, planned inspection and analysis activities designed to monitor pressure tube conditions. Hydrogen equivalent concentration (Heq) in some pressure tubes in two units (not operating) were found to be above predicted values and licensing limit.
Since the discovery, Bruce Power expanded outage inspection activities and modified tooling to obtain highly detailed inspection data. These activities have validated the elevated Heq is concentrated to a very small portion of the pressure tube, known as the 'region of interest.'
Through rigorous processes, Bruce Power concluded there is no impact from the findings on the safety of its units. Putting safety first, Bruce Power completed extensive testing, analysis and evaluations which assessed by the CNSC staff to be compliant with requirements set out in a CNSC Designated Officer Order and the Commission subsequently authorized Bruce Power to restart all units following any outage subject to all other pressure tube fitness for service requirements in the licensing basis being satisfied.
Bruce Power continues to lead industry-level research and development efforts, has shared its operating experience and predictive modeling capabilities with industry peers and keeps the CNSC staff informed of technical advancements related to hydrogen behaviour in pressure tubes in extended operation.
In October 2022, Bruce Power submitted to the Commission an application to amend the licence to formally remove requirement for Commission authorization to operate units with hydrogen concentration measurements >120ppm to reflect the current technical understanding of Heq behaviour.  The Commission hearing in writing is in progress
To find out more about pressure tubes and our inspection process, see below. For updates and past news releases, visit our newsroom.
Bruce Power's Number 1 value has always been 'Safety First.' We operate all our units based on this value, and the results of our regular testing program must be conclusive that the fuel channels are safe to operate at all times.

Inside the CANDU reactors at Bruce Power, there are 480 fuel channels. Each fuel channel consists of a pressure tube, a calandria tube, end fittings and spacers.
On the two opposite ends of the pressure tube are end fittings. Inside the pressure tube are the fuel bundles, which generate heat. On the outside of the pressure tube there is the calandria tube, separated from the pressure tube by multiple spacers.
The Canadian Nuclear Safety Commission (CNSC) licenses nuclear power plant operators, which are required to regularly monitor the condition of pressure tubes to ensure they meet operational fitness standards.
This video describes the function of the fuel channels and pressure tubes, how we test and maintain them, and a description of our innovative Bruce Reactor Inspection Maintenance System (BRIMS) and the tools it delivers to the reactor face.
On the two opposite ends of the pressure tube are end fittings. Inside the pressure tube are the fuel bundles, which generate heat and coolant from the Heat Transport System is used to remove this heat. On the outside of the pressure tube there is the calandria tube, separated from the pressure tube by multiple spacers. Within this gap there is a gas which is measured by an Annulus Gas System (AGS) which measures for moisture and also is a defense in depth measure to ensure integrity of Pressure Tubes.
During regular operation, pressure tubes are exposed to heat, pressure and radiation. Like parts in a car's engine, these components are tested, maintained and replaced over time. Given the role they play these activities are carried out using many methods.
Through extensive research, testing and modeling development, licensees have a thorough understanding of the impact of aging on pressure tubes. Bruce Power, in cooperation with other CANDU operators and the CANDU Owners Group (COG), has technical experts who are focused on reviewing and analyzing hundreds of data points to confirm the integrity of these components and defense in depth. This work ensures that the pressure tubes continue to meet the required safety margins and that pressure tubes are performing in a predictable manner.
The technical evaluations are updated following each outage and more frequently if new information is obtained from research or regular operational activities that would affect the conclusions of an existing evaluation.
After every inspection campaign, inspected pressure tubes are evaluated against compliance verification criteria to demonstrate that the tube will meet the established safety margins until at least the next planned inspection.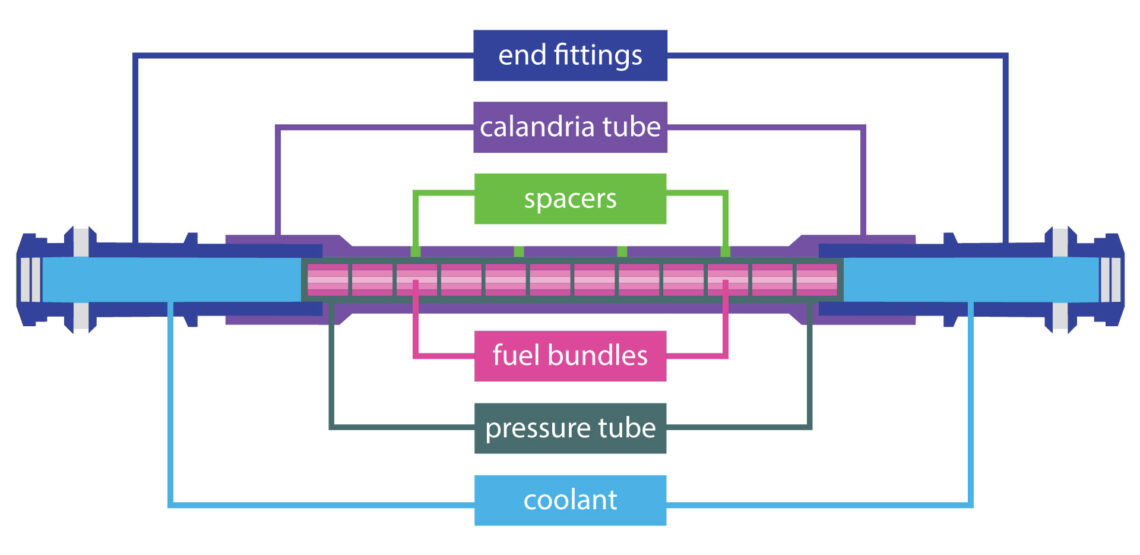 How inspections are carried out
During planned maintenance outages, CANDU reactors all undergo routine testing of fuel channels to test for fitness for duty and safety, measuring factors such as pressure tube and calandria tube changes and elongation; review of fracture protection; in-service considerations; and pressure tube to calandria tube separation.
Bruce Power and its partners developed a first-of-a-kind tool that has revolutionized how we conduct this testing. The Bruce Reactor Inspection and Maintenance System (BRIMS) machine is used to deliver our various inspection tools to the reactor face and deploy them into the fuel channels.
Each tool delivered by the BRIMS system is designed to conduct specific and thorough inspections of the fuel channels and pressure tubes. These tools include: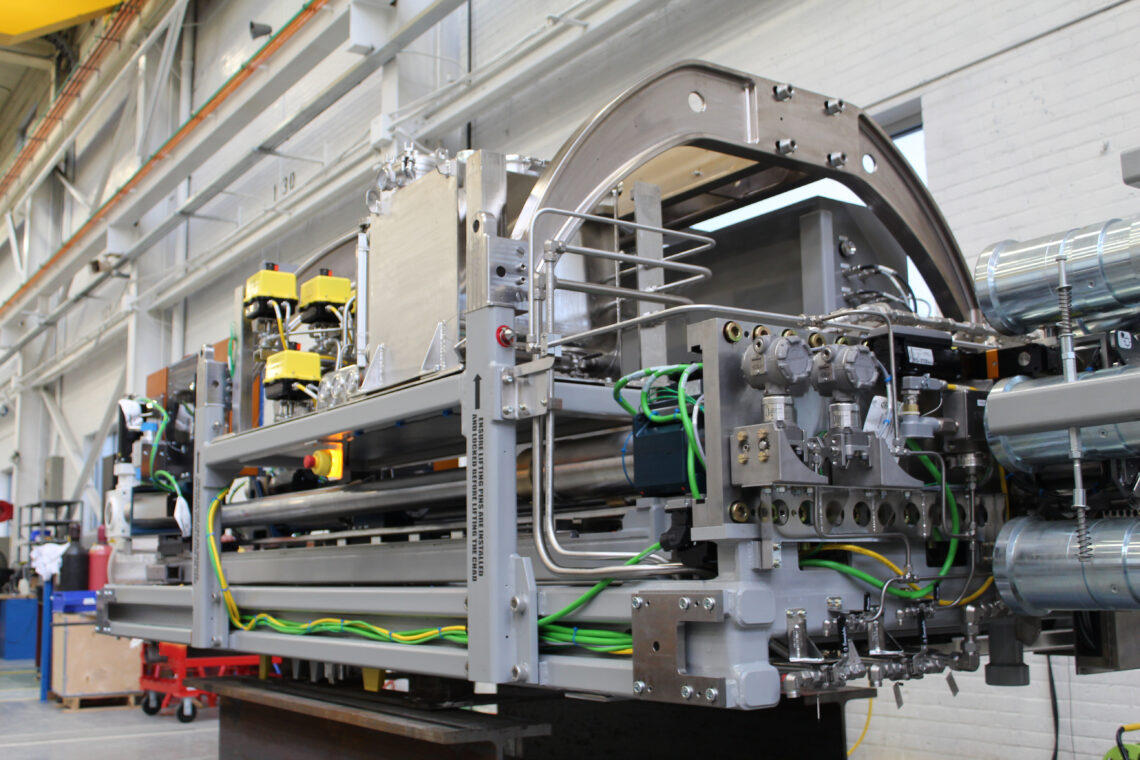 All of these tools give us a very clear picture of the health of the pressure tubes in our units by providing extremely accurate measurements and data. This large amount of data is also used by Bruce Power technical experts to ensure the integrity of the pressure tubes to achieve safety margins the units continue to operate in a safe and predictable manner.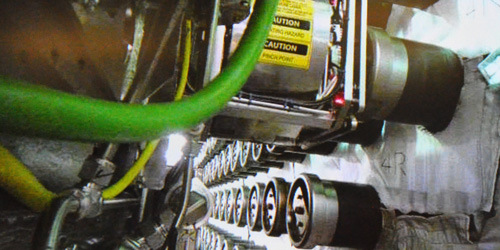 ANDE – The BRIMS Advanced Non-Destructive Examination (ANDE) tooling system performs ultrasonic inspection in a wet, defueled channel. It takes seven to eight hours to process each channel. This ultrasonic testing measures for flaws, channel diameter, wall thickness, sag, and pressure tube to calandria tube gap, and also locates garter springs. Fundamentally, this is used to verify physical integrity of the tube.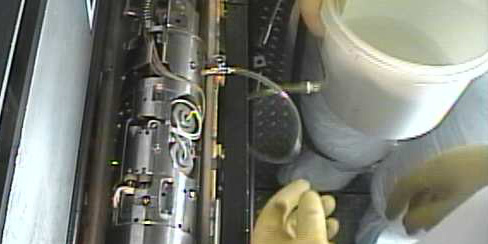 CWEST – The Circumferential Wet Scrape Tool (CWEST) is used to obtain fuel channel metal samples to determine Hydrogen levels inherent in the metal. These metal samples, or scrapes, are taken from various points in the pressure tubes. Fundamentally, this measures hydrogen concentration.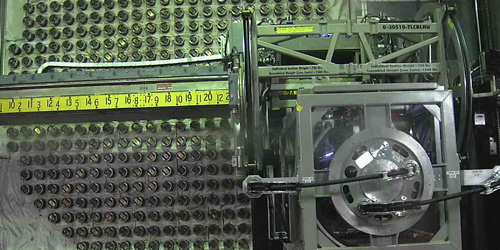 SLAR & MODAR – The Spacer Location and Repositioning Tool (SLAR) and Modal Detection and Reposition (MODAR) detects and repositions garter springs in a wet, de-fueled channel. This ensures adequate separation between calandria and pressure tubes.