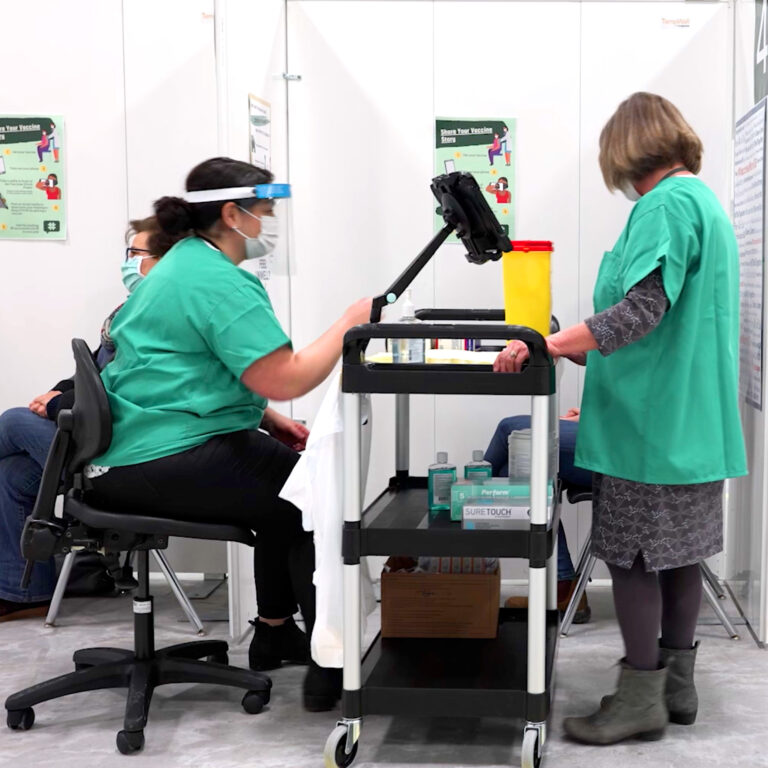 Powering Ontario Through COVID-19
During these challenging times, Bruce Power continues to focus on preventative measures to protect employee and public safety from COVID-19, while ensuring we continue to safely and reliably provide 30% of the province's electricity.
Bruce Power remains committed to working with public health officials and all levels of government to provide resources, logistical support and expertise to assist in COVID-19 vaccination efforts in our region and across Ontario.
Bruce Power has provided resources and logistical support to help convert the P&H Centre in Hanover, the Davidson Centre in Kincardine, and the Harry Lumley Bayshore Community Centre in Owen Sound into mass immunization hubs, which have proven to be some of the most efficient vaccination sites in Canada. The company also provided logistical support to set up a mass immunization hub for Lambton Public Health, and donated freezer units to the Grey Bruce Health Unit and Huron Perth Public Health to assist in the safe and timely roll-out of the Pfizer BioNTech COVID-19 vaccine.
Since the onset of the pandemic, Bruce Power has provided 2.5 million pieces of personal protective equipment to frontline workers, businesses, Indigenous communities and schools – the largest announced donation of PPE from Canada's private sector.
The company has also spent $1 million on public education efforts, community protection, shop local initiatives, and charitable support.
Mental Health Resources
It's okay to not be okay. Find mental health resources and support under For Employees.
Supplier Communication
Bruce Power Suppliers can stay up to date on recent communications and news here.