At Bruce Power, #SafetyFirst is something we expect our employees and everyone doing work on our site to keep top of mind every day. Our number one priority is to make sure every person that comes to work at our site leaves our facilities safe and healthy.
During this extremely challenging time facing COVID-19, Bruce Power continues to put into place preventative measures to protect employee safety, and ensure we have plans in place to safely and reliably provide the province with electricity.
This page is a roadmap to the latest information released by Bruce Power around the COVID-19 pandemic. We also encourage you to follow our social media channels to keep up to date on our initiatives to keep our employees, our families and our communities safe.
Helpful COVID-19 Resources
Bruce Power's COVID-19 Updates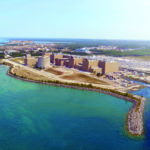 2021-04-01
As part of its commitment to supporting the local community through the COVID-19 health crisis, Bruce Power has donated 90,000 Level 1 disposable masks to be distributed through the United Way of Bruce Grey and an additional 16,000 KN-95 masks … Read more
---
2021-03-22
As part of the company's commitment to assist in COVID-19 vaccination efforts across the province, Bruce Power provided logistical support and expertise to set up a 'Hockey Hub' at the Point Edward Memorial Arena in Lambton County. "Bruce Power remains … Read more
---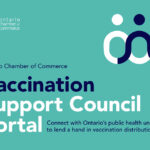 2021-03-04
Bruce Power executive serves as co-chair of council that brings powerful collaboration tool to public health units, private sector organizations To further support Ontario's historic vaccination effort, the Ontario Vaccination Support Council (OVSC) announced today it has launched an online … Read more
---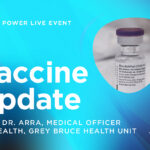 2021-03-03
Dr. Ian Arra, the Medical Officer of Health and Chief Executive Officer of the Grey Bruce Health Unit, will hold a live virtual event on Wednesday, March 10, to provide the community with the latest information on COVID-19 vaccinations in … Read more
---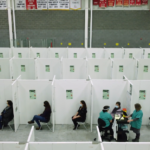 2021-02-26
In an event held today at the P&H Centre in Hanover, Dr. Ian Arra, Medical Officer of Health and Chief Executive Officer of the Grey Bruce Health Unit, announced the region now has three locations ready to serve as mass … Read more
---
Page 1 of 16
Mental Health and Wellness Resources
It's okay to not be okay. Many of us are feeling the mental health impacts of COVID-19. The situation is stressful for everyone and it's normal to feel anxious or concerned. There are many resources out there to help. Let's be sure to look after ourselves, our families and our community.
Call 211 or visit 211.ca for community resources in your area, including food banks, housing support and mental health support. You can also reach out to these organizations: